With most companies implementing remote working setups nowadays due to the global health crisis, finding a job might be a little more complicated. Because of this, in-person submissions of CVs and resumes may not be as effective and ideal to do.
This is why I've been advising friends to learn how to use online job sites so that they could reach out to their prospective companies with just a few clicks and keystrokes. If some people have been avoiding the use of job sites in the past, I think this is the best time to start taking advantage of them.
In this particular article, I will discuss one of these sites, namely the Authentic Jobs website. I will focus on what the website does, what it offers, and how you can use it as a job seeker. If you want to know more about Authentic Jobs, continue reading below.
Understanding How Employment Websites Work
Getting To Know The Authentic Jobs Website
How Much Do Employers Spend To Post Vacancies On Authentic Jobs?
Using The Authentic Jobs Website As A Job Seeker
Applying For A Job Through The Authentic Jobs Website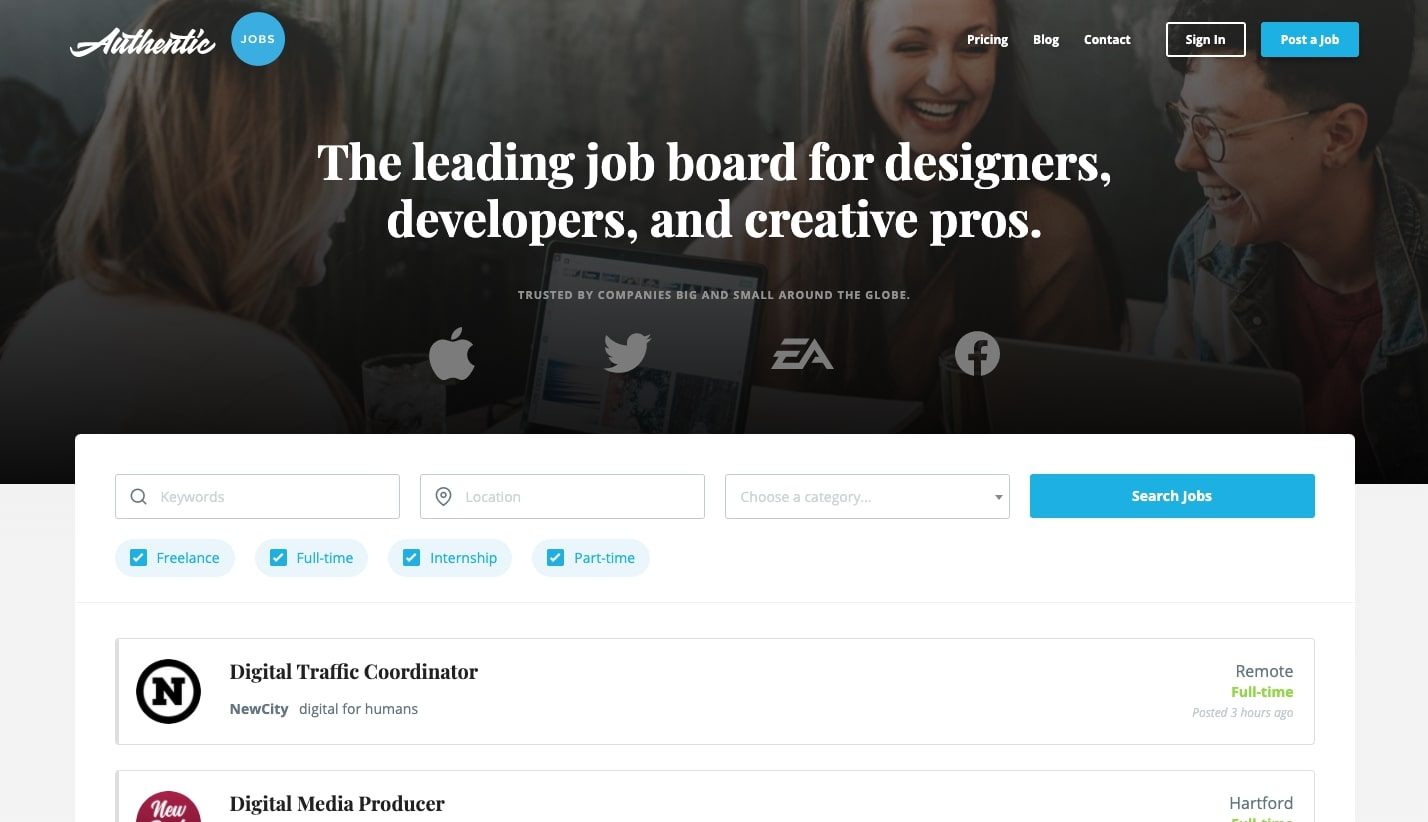 Understanding How Employment Websites Work
Employment websites or job sites refer to websites that specifically deal with employment and careers. These websites are designed to enable employers to post vacancies they need to fill and for job seekers to apply for these vacant positions.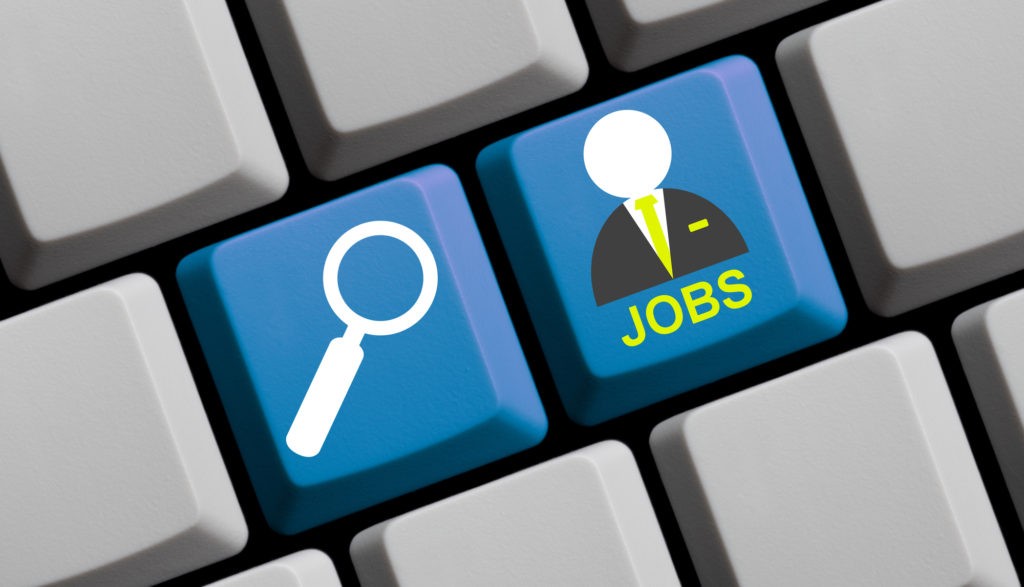 Aside from the vacant positions, employers are able to specify the requirements needed to apply for them as well as the kind of experience that they look for in applicants. This prevents job seekers from applying to positions they're unqualified for and saves employers' time in screening unqualified submissions.
Submission of job applications can be as easy as uploading a resume to the site, filling out a few online forms, and hitting the submit button. These websites may also have features that allow employers to be rated by past and present employees.
Distinguishing The Types Of Employment Websites
Depending on what can be done on the site, employment websites can be classified into different types. As I mentioned earlier, job boards are sites that serve as a platform to connect job seekers with employers. Some job boards may come in the form of a search engine; that's why they are called job search engines.
However, there are some employment websites that function as search engines that collate results from various job boards. This so-called metasearch and vertical search engines aim to serve as a one-stop shop for job hunters, so they don't need to explore each job board.
A special type of employment website is called an employee review website. It doesn't necessarily list vacancies but instead works as a review website where past and present employees can write about their experiences working for the company.
Getting To Know The Authentic Jobs Website
In this case, Authentic Jobs is a job board known for catering to IT designers, developers, and other creative professionals. Job seekers will find full-time, contractual, remote, and internship positions on the site and even freelance work.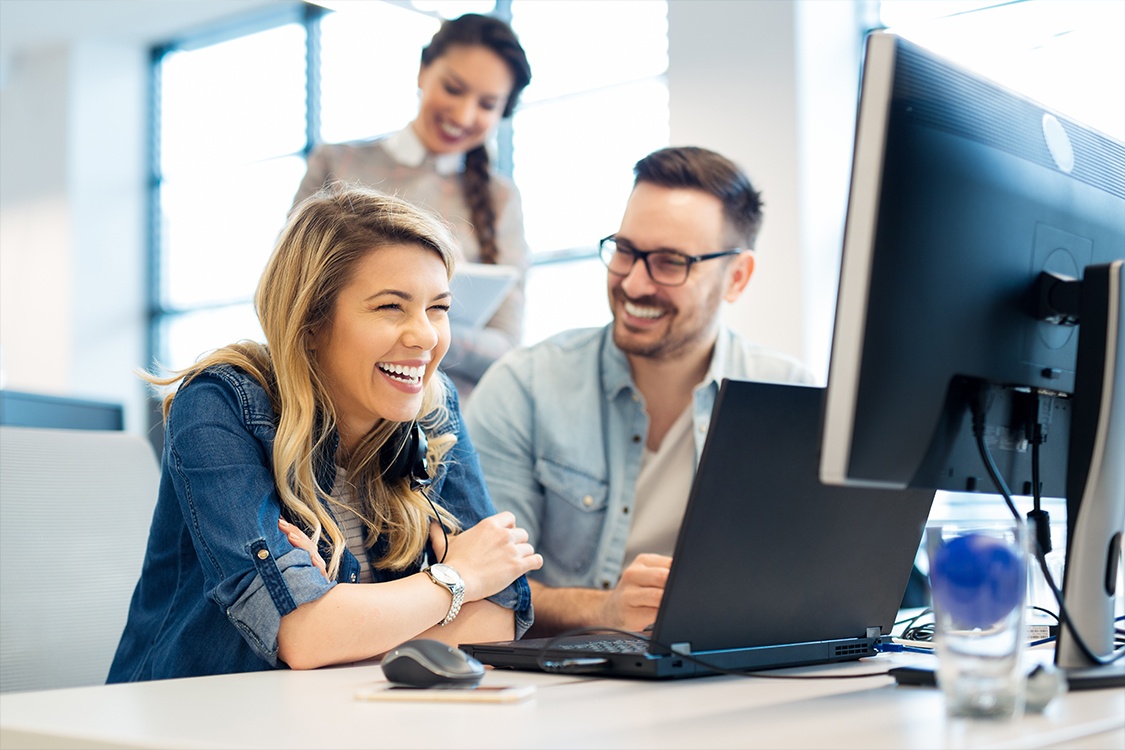 The website does not aggregate postings from other sites and only hosts jobs that were directly posted on its platform. And to make sure everything posted on the site is "authentic," the site has a dedicated staff tasked with monitoring the quality of job postings and remove spam posts.
Another factor that ensures the high quality of job postings on the site is the fact that employers pay to post vacancies. This means that information posted is generally well-organized and tagged so that it will end up in the filtered search results of job seekers.
The Website's Humble Beginnings And Growth
The US-based company was founded in 2005 by Cameron Moll, Myles Grant, and Adam Spooner. Authentic Jobs began as a simple sidebar to a personal website that year, but it became a full-fledged website just a year after, in 2006.
Over the years, the website was able to establish itself as a niche job board for "designers, developers, and creative pros."
Among its high-profile employer clients are Apple and Electronic Arts in the tech sector, the New York Times and NPR in media, and Facebook and Twitter in social media.
How Much Do Employers Spend To Post Vacancies On Authentic Jobs?
Employers who want to post job listings on the website will need to create an account with Authentic Jobs. After that, they will need to get a subscription to be able to start creating a job listing on the website.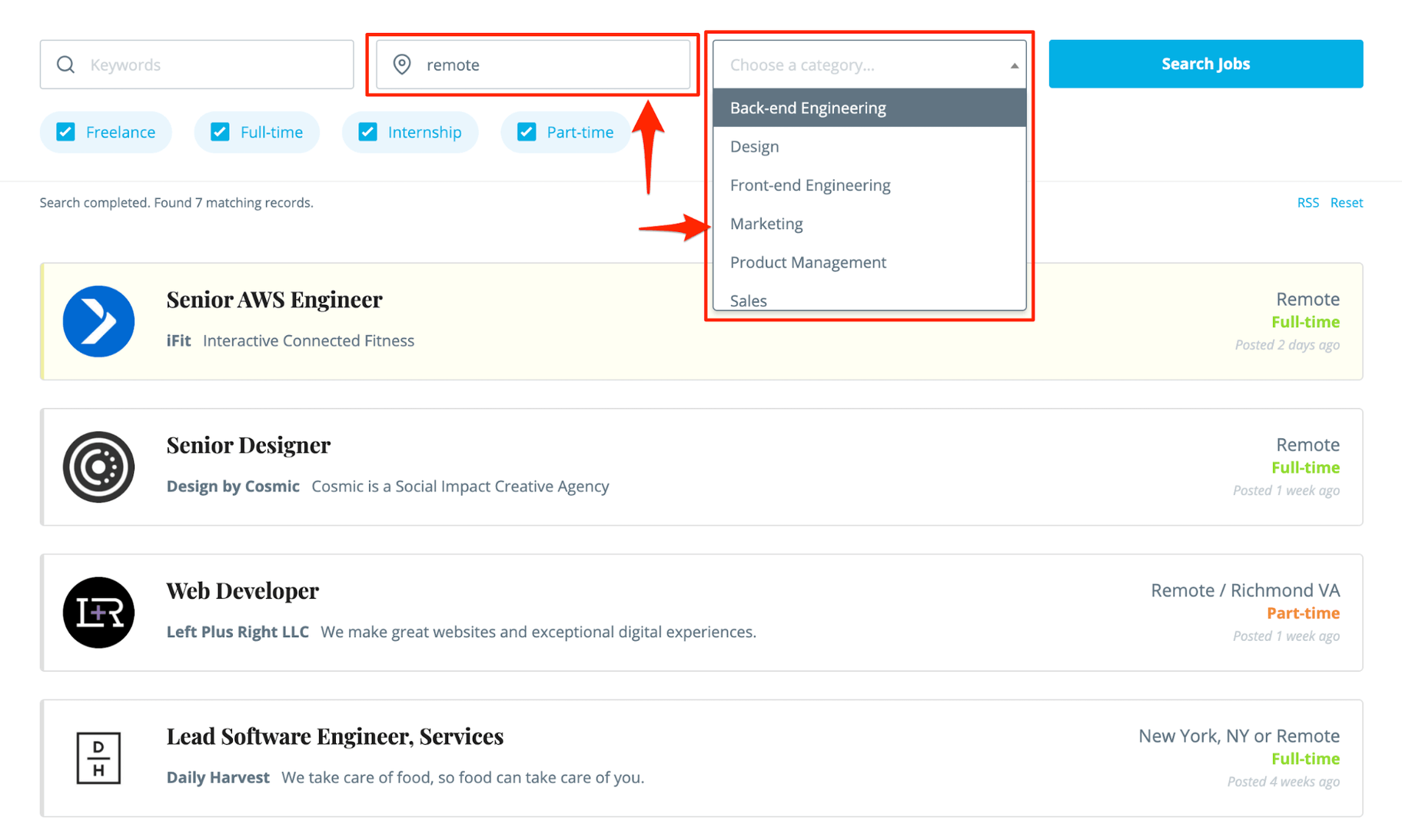 A standard job listing on the website costs $149 per month, while a featured job listing is priced at $199 per month. Educational institutions and nonprofit organizations are given discounted rates, which will be discussed with the company.
Authentic Jobs also offers optional exposure boosts to other sites, such as the Dribbble, the Designer News, and the We Work Remotely job boards, the Startup.jobs feature, and the UXBooth newsletter.
Guaranteeing Client Satisfaction With Its Subscription Service
Clients using the website's subscription service will be given a job monitoring dashboard where they can easily edit and renew job listings. They can also review applications submitted by candidates.
Because the company guarantees 100% client satisfaction, it gives employers who are not satisfied with the results from their listing the option to get a full refund or request a reposting for free as long as this is made within 30 days of the listing going live.
Using The Authentic Jobs Website As A Job Seeker
To be able to teach my friends and relatives how to use the website, I tested it out myself and pretended that I was looking for a job.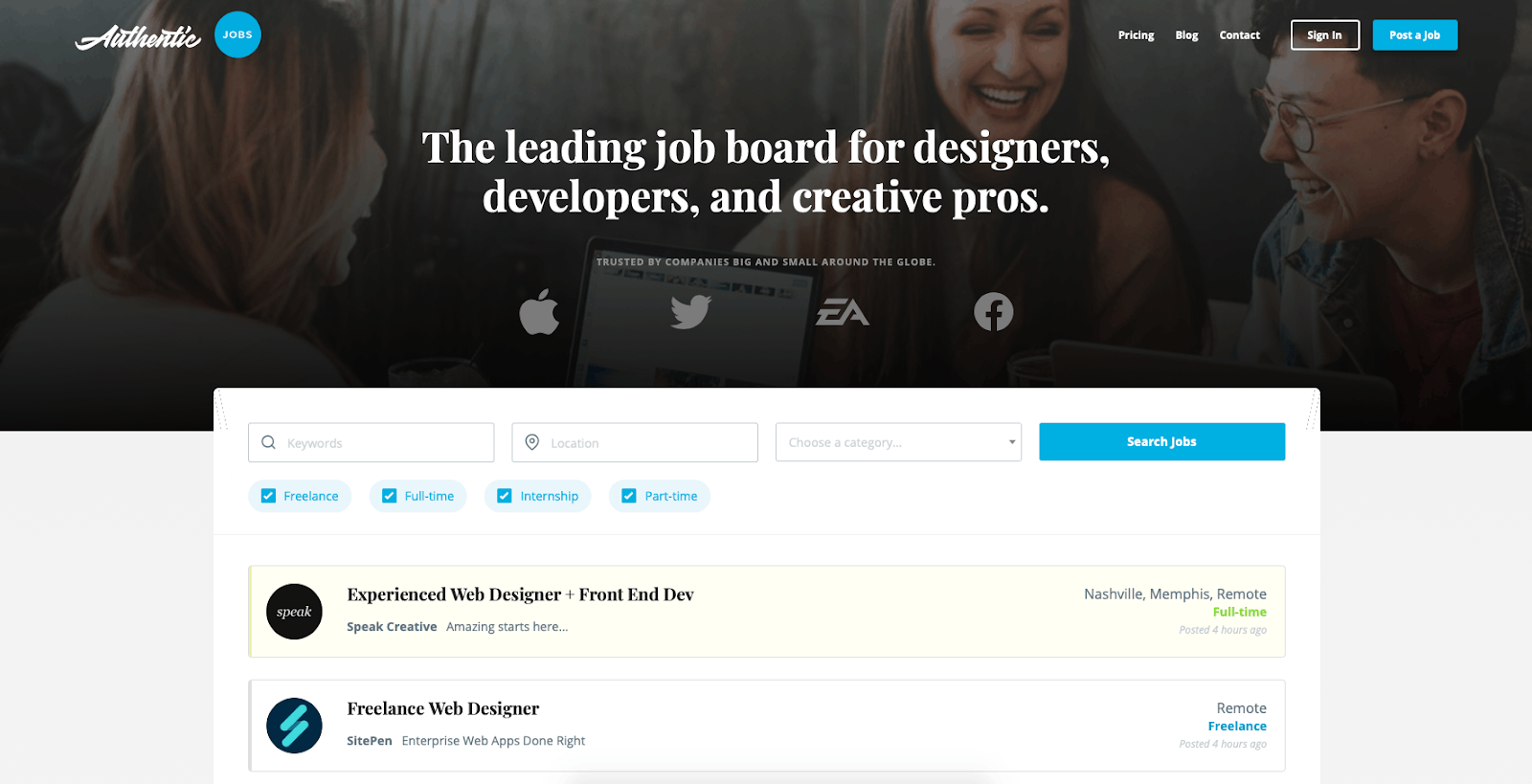 Opening the website, I was immediately greeted by the job board. There were several options on how to search for a job. The first one was the use of keywords, wherein I typed in the word "developer," and developer and design listings immediately appeared.
I was able to further filter the results to jobs near me by indicating the location. There is also a Category drop-down menu that lists the field the job you're looking for might fall into. These include back-end engineering, copywriting, design, and marketing.
Checking The Boxes For Desired Job Level
Aside from the filters that I discussed above, job seekers may also further limit the search results depending on the desired job level or employment status. I was able to check and uncheck the tick boxes that say Freelance, Full-Time, Internship, and Part-Time.
Freelancers may not want to totally uncheck everything and leave just the Freelance tick box checked because some opportunities that are freelancer-friendly may sometimes be tagged as part-time jobs. So, you may consider browsing through the part-time jobs, too, if you're a freelancer.
Applying For A Job Through The Authentic Jobs Website
So now that I've chosen a particular job listing that I want to apply for, the next step to discuss is how to submit an application. From the results, I just clicked the listing that I've selected, and it will open a new page.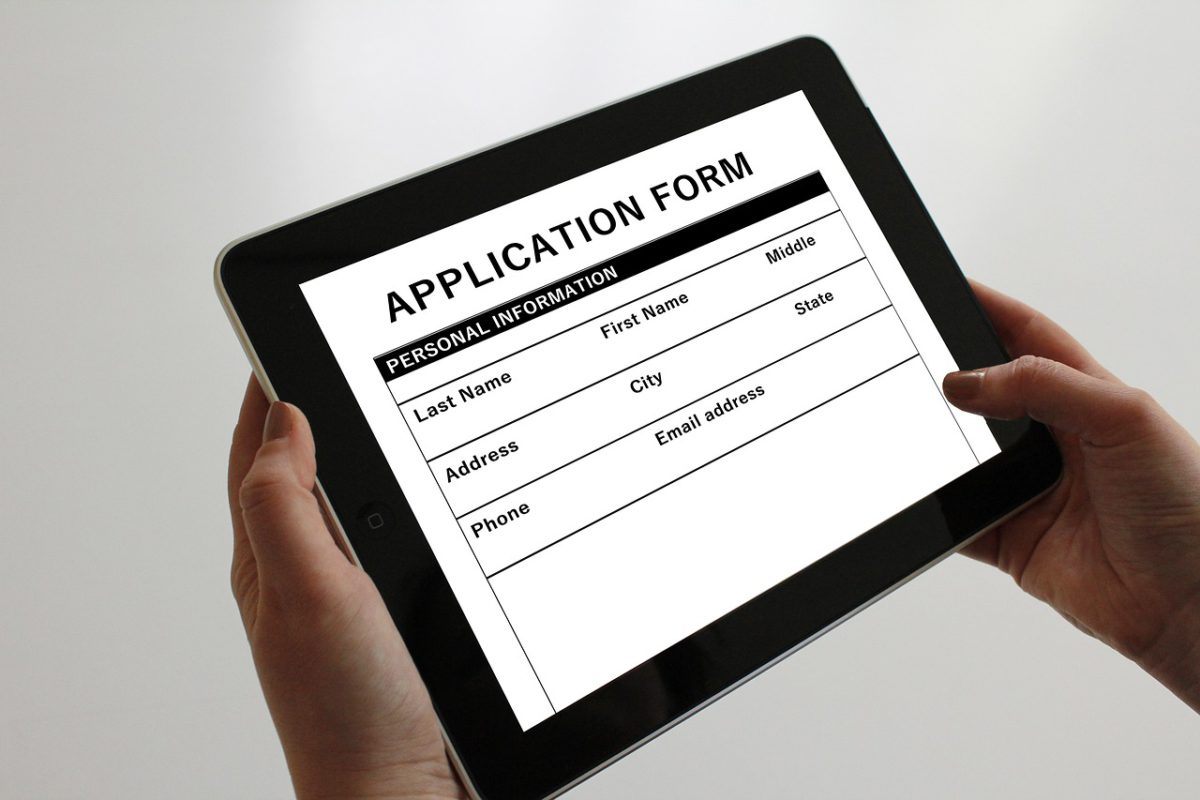 This page provided information about the position, the duties and responsibilities attached to the job, and the knowledge and skills required to get the job. It also specifies the job site where the position will be located.
It may also offer details on the salary, number of positions available, and the work schedule that comes with the position.
Submitting An Application On The Listing
Once I clicked on the Apply for Job button, a form that needs to be filled out appeared. Information that needs to be provided includes Full Name, Email Address, Cover Letter or Message to the Employer, and Link to your portfolio.
At the bottom of the form, I found a captcha, which would make sense in order to avoid bots from making submissions to the listing. This is because some shady programs may take advantage of these pages to gather personal information and use them illegally.
Unfortunately, when I clicked on the Apply for Job button, I encountered some listings that directed me to a careers page on a different site. This means that some applications would not be directly submitted to these companies.
The Bottom Line
Overall, my experience using the Authentic Jobs website was a smooth one. I found it easy to navigate because of its simple design, and the filters are helpful in limiting the results to jobs that I'm particularly interested in.
However, I must say that this job board feels more of a niche website since most of the postings are limited to the fields I mentioned above. On the other hand, if you belong to one of these fields, the quality of listings will surely make your job hunt easier than using the bigger job boards.